How to Clean Patio Furniture: The complete Guide. Baeryon
Jun 22,2022 | Baeryon Outdoor
It's not always very easy to maintain outdoor furniture immaculate as well as all set for guests. Your patio area furnishings bear with a great deal. Not only is it outside all the time where it's subjected to dust as well as at risk to fading from sunshine, yet your outdoor patio furnishings likewise face danger in the form of summer Barbeques. All it takes is one spilled glass of merlot, a hotdog dropped ketchup-side down, or too much greasy sunscreen, and unexpectedly your once-beautiful patio furnishings is loaded with stains. Include the moisture which comes from the occasional autumn or springtime rain shower, and you have a recipe for mold and mildew and also mold on top of everything else.
There are some useful and effective ways to recover outside furnishings that can help your cozy climate living and also eating areas to look as good as new.
This guide will offer you a comprehensive breakdown of how to clean, treat and protect a range of outdoor furniture, including different items, materials, and conditions. Whether that's a teak sofa set for kicking back and reading a book, aluminum patio sectional, or a luxury wicker seating group. Plus, there are also some handy tips on how to keep your outdoor fabrics, such as cushion covers, looking in top condition.
How to clean outdoor teak wood furniture
Teak is a beautiful, natural material and the best wood for outdoor use. It starts out a warm, golden-brown color and naturally weathers into a silver-gray tone.
One of the many benefits of teak furniture is that it can look much better with age. Gradually, the grain on timber comes to be more prominent and it can take on a variety of gorgeous shades and structures. Certainly, this depends upon both the kind of wood utilized as well as the means it is cared for. Wood does require some semi-regular treatments, such as staining or varnishing, to look it's best. This is especially true if it is likely to be left exposed or without a furniture cover.
Extreme direct exposure to dampness can bring about mildew as well as mold and mildew, which can damage the indispensable framework of the wood. A combination of moisture and excessive sunshine can cause bending as well as splitting.
However, the good news is that it is possible to clean and restore most kinds of wood - both from dirt and the signs of wear and age. The same applies to wicker furniture (although this can be more susceptible to moisture, so a cover is always recommended).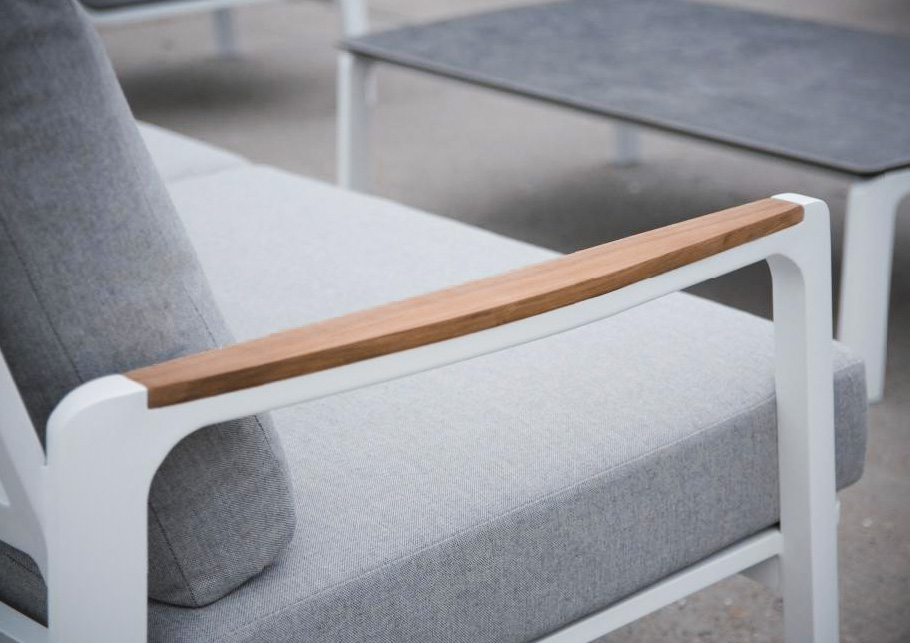 Suggested cleaning solution:
Some warm water
Mild soap or detergent
Soft bristle brush
220 grit sandpaper (optional)
To remove grime, first you must wipe furniture clear of dirt and debris. Use mild soap and water if needed, but do not use a high-power water jet as this can cause damage to the wood. You can buy specialist wood cleaning products, or you can make your own using a combination of warm water, gentle, natural dish detergent. Normally In a bucket, mix 1:3 detergent-to-water solution using warm water. Once the furniture has been gently scrubbed using the solution, then make sure it is completely dry before putting any covers back on.
Once you're done cleaning your teak furniture, if the surface is rough, you can use 220 grit sandpaper to smooth it out. Make sure to sand in the direction of the grain, as going across the grain will scratch the surface
In the end, a light sand using a fine paper and a new coat of treatment such as oil, varnish can have your furniture looking as good as new.
How to clean metal outdoor furniture
If your outdoor furniture is made from steel, aluminum, then there are problems you may encounter different to those for wood. Of these, rust or oxidation is the most common for metal furniture. So we always suggest our client to choose aluminum frame patio furniture. At Baeryon, we will always choose aluminum frame for metal furniture. So no worry about rust issue problem.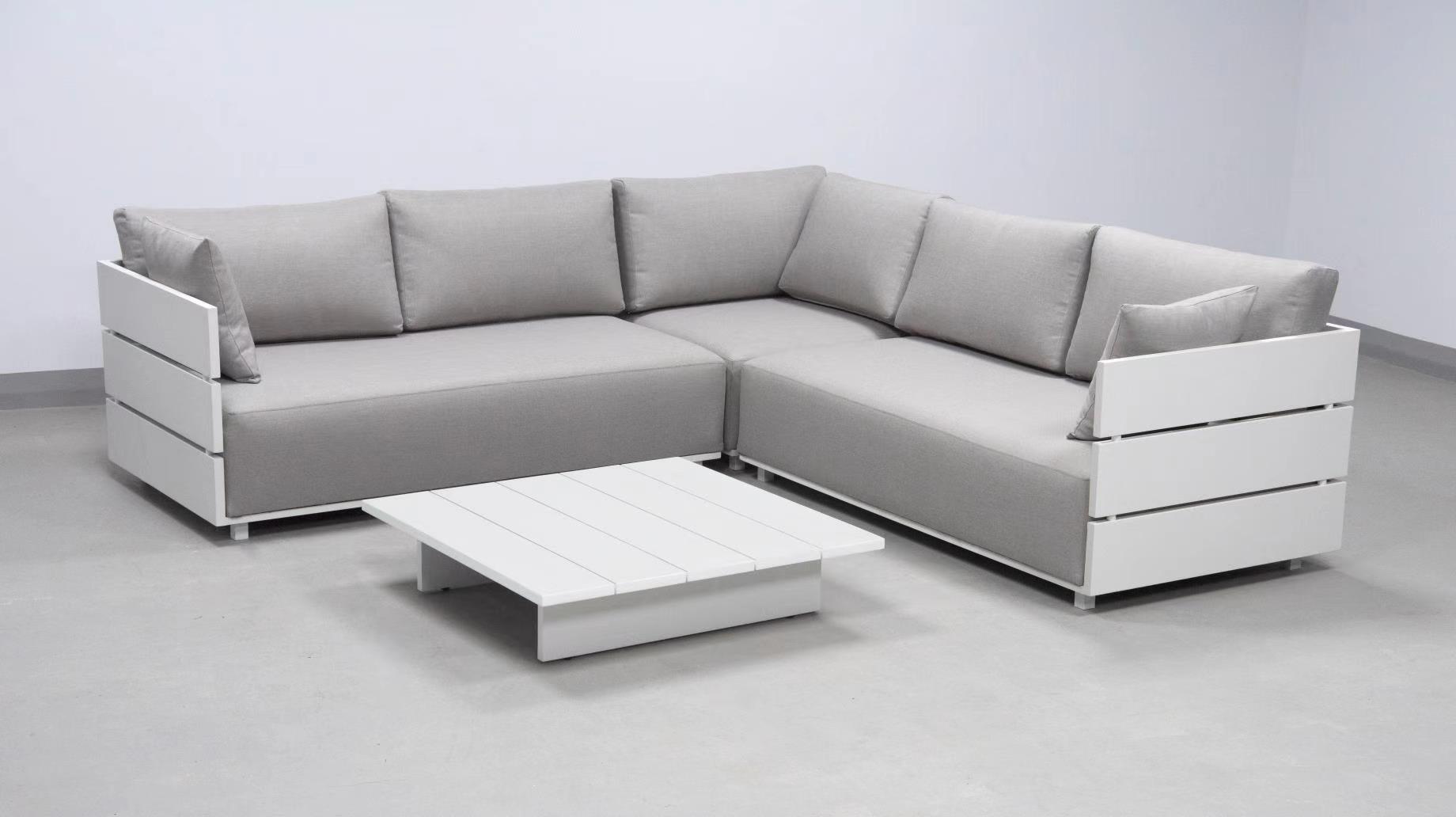 Before cleaning any rust, it is necessary to remove as much of the oxidized metal as possible. You can do this by either using a special metal polishing paste or with a homemade solution of white vinegar and water. Try to avoid using alkaline cleaners as these can cause further oxidation.
It's also essential not to utilize an abrasive cloth as this can create scrapes and also abrasions to the surface of the surface. Nevertheless, you might find that your paint coating is currently looking for some repair service. If you are going to paint furniture, after that keep in mind to make use of an anti-rust primer before applying the leading coating. This could include years to the life expectancy of your backyard furniture.
Our hand-woven, all-weather wicker is wrapped around a powder-coated aluminum frame for superior strength.
Pair that with rustproof aluminum legs, which will stand up to wind, rain, heat, and snow, and you've got yourself an incredibly durable sofa!
When it comes to cleaning the metal frames and legs of your patio furniture, a gentle cleaning solution with some warm water should do the trick to remove scuff marks. So since we have already figured out a way to fix the problem by our aluminum patio furniture, a bucket of warm water and garden hose to clean the surface of aluminum tube are definitely enough to have your furniture back.
For even further protection, a layer of varnish on top of the special metal paint can help to prevent chips, scratches and the first signs of rust. For both wood and metal, an outdoor furniture cover is a good idea to help protect it from exposure to the elements, including rain and extended periods of sunshine. This will help to keep your outdoor lounge looking better for longer.
How to clean rope woven outdoor furniture or wicker patio furniture
Many pieces are made of all-weather rope at Baeryon, for instance, our RED and CETUS collection. Not only is it stylish and versatile, but all-weather rope is also extremely durable and easy to clean, which we love! During the last several years, rope become a hit in the market all round the world and also the no.1 material for designers to select when they design the new collections. The material of wicker at Baeryon is a High Density Polyethylene (HDPE), a kind of plastic, eco-friendly. All our wicker furniture are hand woven by detailed craftsmanship.
Due to the high performance of rope or itself, it is very easy to maintain the rope the same as wicker. When it comes to cleaning your rope woven patio furniture or wicker outdoor furniture, keeping things simple is best to avoid damaging the rope or wicker.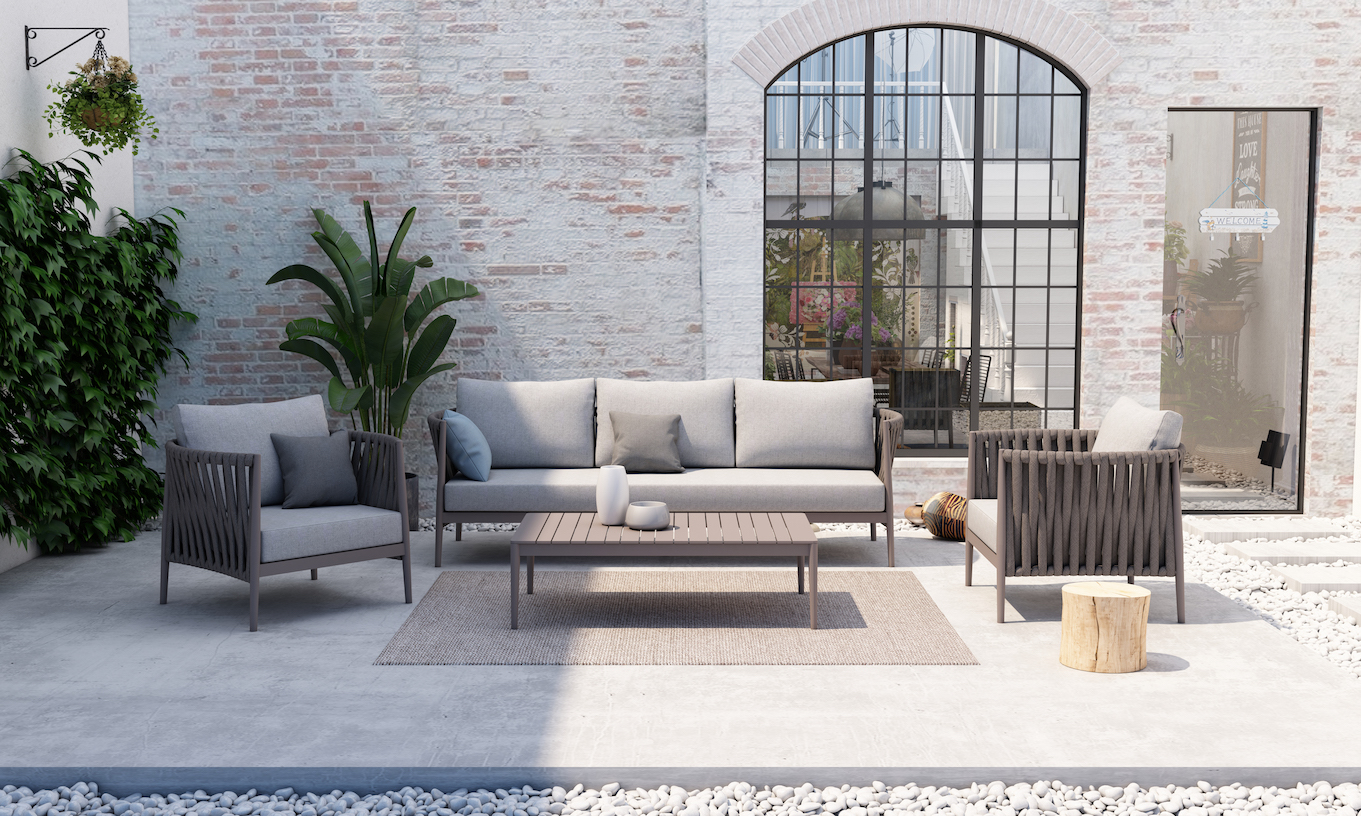 Suggested cleaning solution:
Bucket of warm water
Gentle, natural dish soap or detergent
Soft bristle brush
Garden hose
Remove any type of cushions, fabric, and also evident particles from your furniture.
Load your container with cozy water as well as a few decreases of mild soap or detergent
Loosen dirt and pollen. Beginning on top as well as functioning your way down, dip your bush, then carefully massage warm, soapy water into the weave of the rope or wicker, alternating back and forth with up and down strokes
Keep going till the entire piece has been gently scrubbed. Modification container water as needed throughout the process
Take your hose, and also on a high-pressure setup, hose pipe off the staying dirt and soapy water
Gently towel off excess water, after that allow your furniture air dry
How to protect fabric and cushion covers
Hard materials like wood and metal can show signs of wear and damage over time, so imagine what might happen to softer materials such as cushion covers and fabrics. Cushions and pillows bring a much-needed softness to your outdoor lounge, but they do need some looking after to be at their best.
Always try to put them away or at least under cover when not in use. This will protect them from rain and sunshine. Try and avoid storing in a damp place as this can lead to mold. It is a good idea to wash them before they get stored and ideally again when you bring them out again at the start of the summer season.
Most cushions and pillows have removable covers that can be washed in the machine, or at the very least given a long soak in soapy water. Dry on the line and ensure that they are 100% free of damp before putting back on the cushion. Before purchasing your patio furniture, be sure to check whether the cushion covers are both removable and machine washable. If you already own outdoor furniture, check manufacturer instructions before machine washing, as many are not able to go in the washing machine.
How do you remove mildew from outdoor furniture?
It depends on the material and extent of the problem. A scrub with warm soapy water or specialist mildew removable product will help. Try to avoid using a cloth that is too abrasive on metal, buy wooden furniture that could benefit from a light sand before protective coatings are applied.
How Often To Clean Patio Furniture
An usual concern we get is how often outdoor patio furniture must be cleaned up. And also the answer depends on a selection of variables, from exactly how often you utilize your furniture to the environment you stay in.
In addition to cleansing visible spills or marks not long after they happen, giving your patio area furnishings a regular cleaning can help expand its life and usability.
We recommend consistently cleaning your patio area furniture top to base during times of optimal usage, like summer, as well as prior to you cover it up for the colder months when you may not be utilizing it as usually.
It's best to clean your patio furnishings at the very least once a period where feasible to prevent a build-up of excess wetness, which can cause mold.
By following our suggestions detailed in this overview, you truly can not clean your furniture too often or in a manner that may create damages, so have at it!
Comment
Back to BLOG.